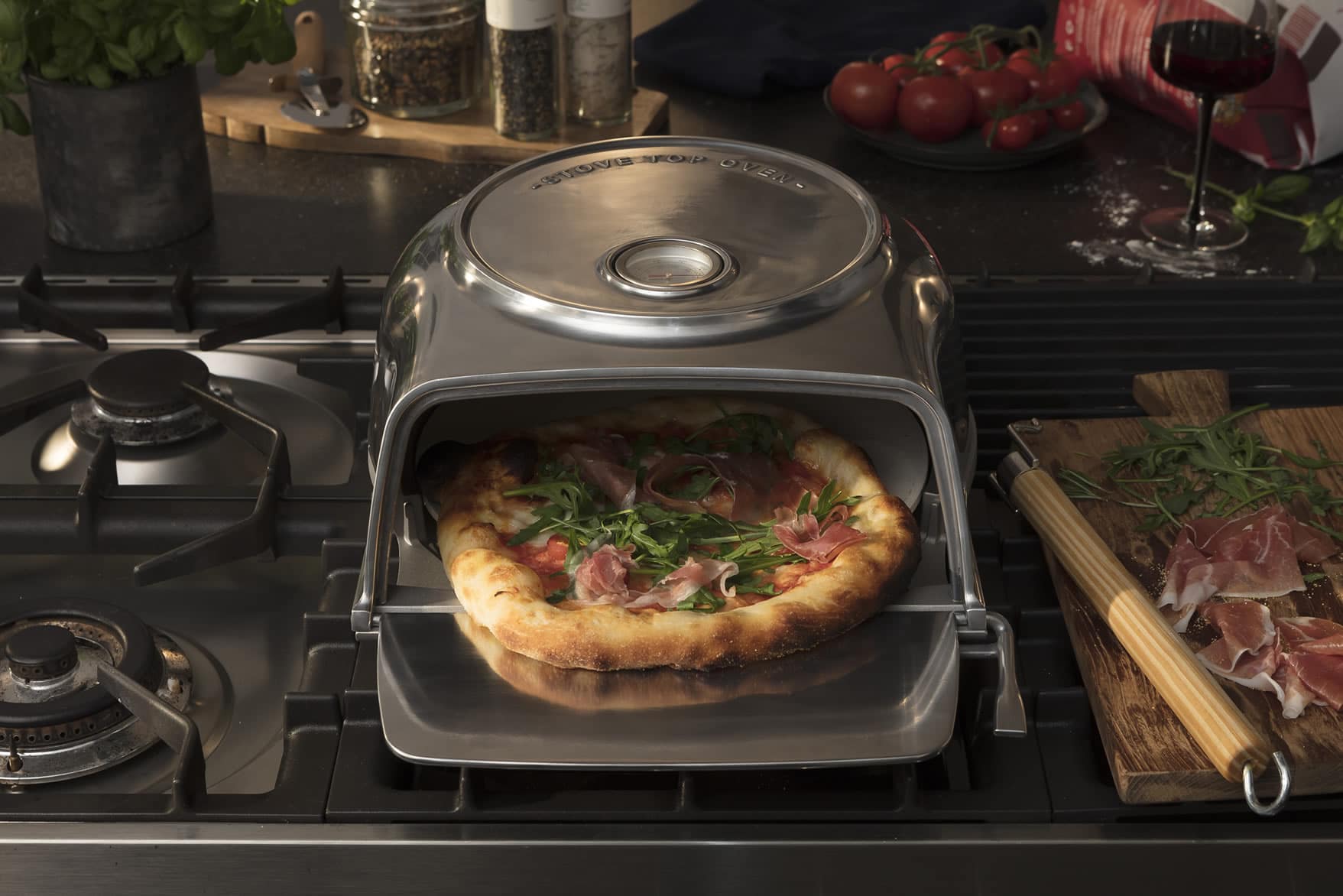 About FERNUS
The oven to place over a fire!
Perfect for inside on your gas stove or outside on your rocket stove.
FERNUS can be heated up to 350 degrees within 10 minutes, which is the best temperature for preparing pizzas, flammkuchen or, for example, naan breads. Within just 4 minutes, they will be cooked nice and crispy with the leopard skin print characteristic of wood ovens you may have seen on holiday in Italy.

fernus is not suitable for induction or electric heat sources
Fernus has an angled underside. This allows the heat of the flames to flow inside. Once inside, the hot air circulates, ensuring your dish is heated evenly.
Place Fernus in the most suitable spot on your gas stove, preferably on the wok ring (see also 'Placement of Fernus'). Light the stovetop. The reading on the thermometer will increase very quickly and after as few as 10 minutes, a temperature of up to 350 °C can be reached.
We have developed accessories especially for FERNUS that are available separately. With the SnackRack you use Fernus for gratin or for frying with hot air. We also developed a SmokeSet to use Fernus as a smoker. Use your creativity and cook dishes very quickly at 350 degrees or go slow and smoke or steam on a small fire with 70 degrees. Many preparation methods are possible!
Air circulation and heat transference of Fernus. Place Fernus slightly forward for optimal air circulation and cooking results.
FERNUS is made of cast aluminum. We love aluminum as a raw material to make beautiful products because aluminum is abundantly present and can be melted endlessly into new products. FERNUS consists of a bottom, a top cover, a lid and a cap. The sealing cap is replaced by the ChipFeeder when using Fernus as a smoker. A cordierite pizza stone, a thermometer and a handy scoop complete FERNUS. All FERNUS parts are available separately and can be replaced if necessary.
The handle of the pizza scoop can also be used to remove Fernus accessories from the oven.
Thermometer
Top cover
Lid
Pizzastone
Sealing cap
Bottom
Pizzashovel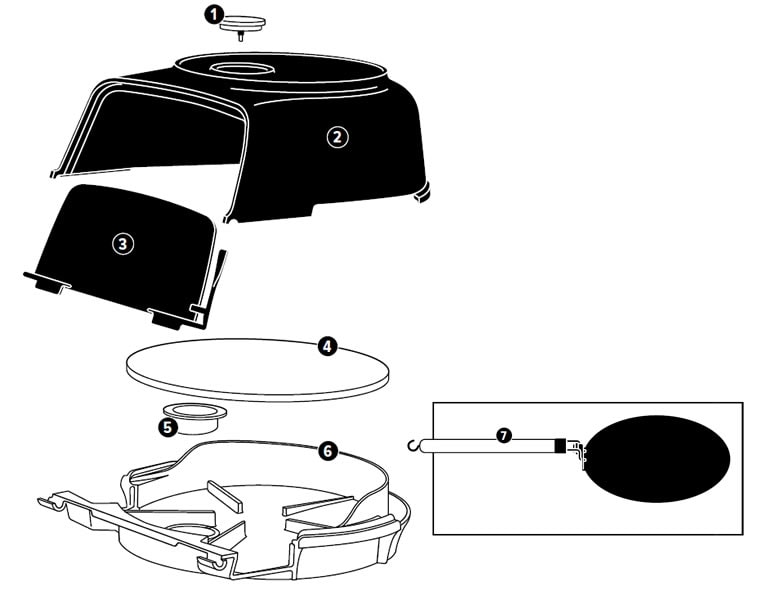 Within a matter of minutes, Fernus can reach temperatures of up to 350 °C. Cooking at such high temperatures is awesome, of course, but it can also be dangerous, requiring caution and a bit of practice. Fernus was built for indoor use on your gas stove or outdoor on the flames of your gas burner or rocket stove. Fernus can be used safely as long as these 3 basic rules are followed: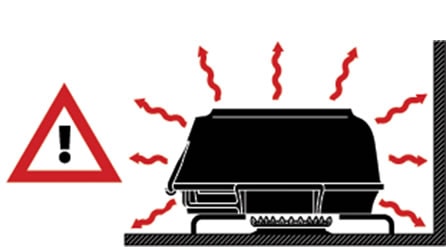 Stability
Fernus must always be positioned evenly and stable. Before use, please ensure all components are in the right place.Test Fernus' stability before use. In case of doubt: do not use Fernus. Use the PitStand accessory, sold separately, to improve Fernus' stability.
Heat management
Fernus gets very hot during use, not just on the inside but on the outside as well. The emitted heat must be absorbed by heat-resistant material or by leaving a sufficient amount of free space around Fernus.
Check Fernus' environment during first use and give Fernus adequate time to cool after use.
Use the PitStand accessory to increase the distance between Fernus and the supporting surface underneath.
While in use, only touch Fernus' rubber handle to open the door. Make sure to wear oven mitts for this.
Supervision
Never leave Fernus unattended while in use and ensure children keep their distance.
Where can FERNUS be used?
Fernus can be used in various situations. For safe usage of Fernus we provide an overview of the suitable and unsuitable usage scenarios.
Use inside
1. USE ON A FREESTANDING GAS STOVE WITH CENTRAL WOK RING (5 RINGS)
Fernus can be used safely on a 5-ring freestanding gas stove with a central work ring of approx. 2.5 to 5 kW. The operating buttons are placed at the front of the stove, protecting them against the radiant heat.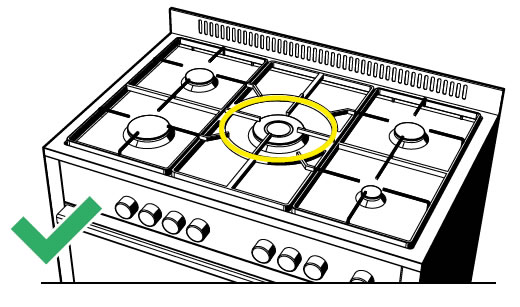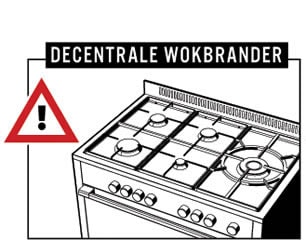 FERNUS is placed to the side of your gas stove. The side must be able to withstand the radiant heat generated by Fernus.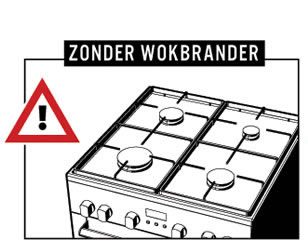 In this setup, Fernus is always placed to the side of the stove. Please ensure that Fernus is stable and that the worktop to the side can withstand the radiant heat.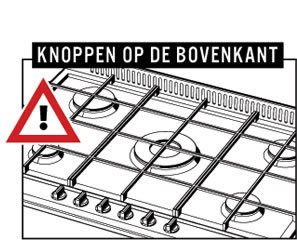 Operating elements in the top surface will get hot due to the radiant heat generated by Fernus. Use gloves when operating these buttons and ensure the material they are made of is heat resistant.
Use inside
2. Use on a built-in gas stove with removable pan stand on an even surface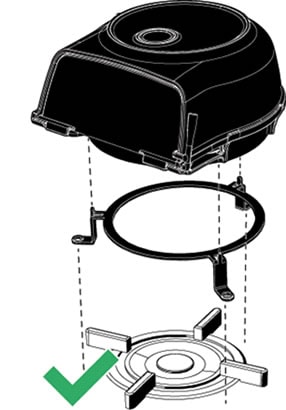 Does your built-in gas stove consist of a glass plate with gas ring on top or a solid worktop with round gas rings? We developed the PittStand especially for this usage scenario. Because the iron pan holders in this type of stoves are also round, Fernus can be better positioned when using the PitStand. The PitStand ensures your Fernus can be placed freely over the gas flame. The PitStand also increases the distance to the glass plate or worktop, so that they are less affected by radiant heat coming down.
Fernus can be used safely on built-in gas stoves with a central work ring of approx. 2.5 to 5 kW. The surface or worktop underneath must be made from a heat-resistant material capable of handling the radiant heat, such as glass, granite, or natural stone.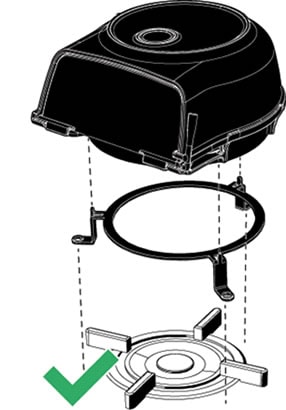 Use outside
Fernus is very suitable for outdoor use. A mobile 1-ring gas stove usually allows the radiant heat to dissipate very well. It is particularly important to ensure Fernus' stable positioning.

Fernus has similar dimensions to a wok or a large frying pan
DIMENSIONS: 3O X 30 X 15 CM (WXDXH)
MATERIAL:CAST ALUMINIUM, CORDIERITE PIZZA STONE
PIZZASTONE: APPROX. 27 CM (MEDIUM-SIZED STANDARD PIZZA)
WEIGHT: 4,5 KG
TEMPERATURE RANGE: 40 °C – 350 °C
DELIVERED INCLUDING PIZZA SCOOP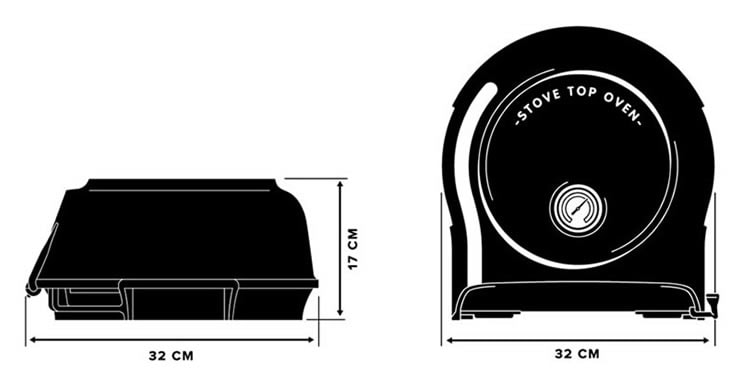 We recommend not heating FERNUS beyond 350 degrees Celsius. This is more than hot enough for all intended purposes. If you heat it any further than that, you risk warming the metal or otherwise deforming the underside.
Making pizzas requires practice and will not immediately go great. But don't worry and persevere. Rome wasn't built in a day!
Use dough balls of approx. 200 grams and stretch them to a diameter of approx. 27 centimetres.
It is important that you allow sufficient time for Fernus to heat up. The thermometer will respond immediately, but the stone needs a little time to heat through.
The pizza stone has a light colour and will darken with use due to burnt oil and food residue. And that is absolutely fine! In fact, given the proper care, the stone will only get better over time.
Don't stretch your pizza base beyond 27 centimetres, you can always use your pizza scoop for guidance.
Use dough at room temperature as it will be more elastic and easier to work with.
Don't leave uncooked dough products on the scoop for too long, because the longer it remains on the scoop, the harder it will be to shove into the oven.
Use corn and rice flour to allow your pizza to slide off the scoop onto the stone. Trust us, do this! These types of flour won't burn as quickly, making the process much easier.
During initial practice attempts, you could always leave your pizza the cook on the scoop for the first minute or so. After that minute inside a preheated Fernus, your pizza will slide onto the stone much more easily and the contact with the stone will make the base lovely and crispy.
With Fernus you can cook one item after the other, because dough products will finish cooking in as little as 4 minutes. As soon as one dish is ready, you can move on to the next. However, do not leave Fernus empty at a high temperature for more than 15 minutes. Doing so might cause it to overheat.
Fernus is excellent for baking bread but do ensure your bread is no higher than about 7 centimetres, otherwise it will touch the thermometer and the air won't be able to circulate optimally.
Allow FERNUS to cool off for about an hour before picking it up. Never try to cool it by putting it in cold water! Wash the oven by hand (use a nylon scouring sponge or a mild detergent if needed). You can also leave FERNUS to soak in warm water and wash it after. FERNUS should not be put in the dishwasher. The polish of the pure polished aluminium version can easily be restored using steel wool and polish.
Wait until the stone has completely cooled down before cleaning it. Wipe the pizza stone with a dry kitchen towel or wet kitchen sponge. No detergents needed. Remove any burnt bits of cheese, dough, or sauce using a spatula or putty knife. For stubborn dirt, you can use a stainless steel scouring sponge. Beware! Regular use will cause the pizza stone to look blotchy. This is unavoidable and will not affect operation or cooking results. NEVER put the pizza stone in the dishwasher.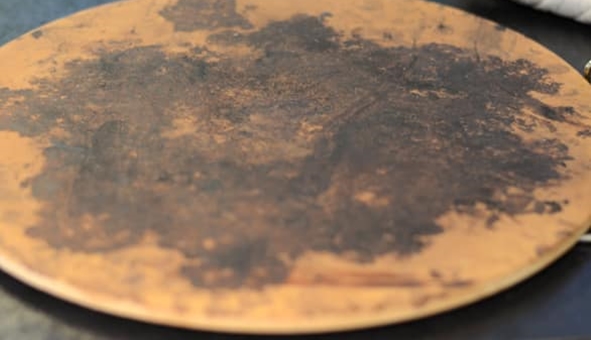 Regular use will cause the pizza stone to look blotchym and thats ok!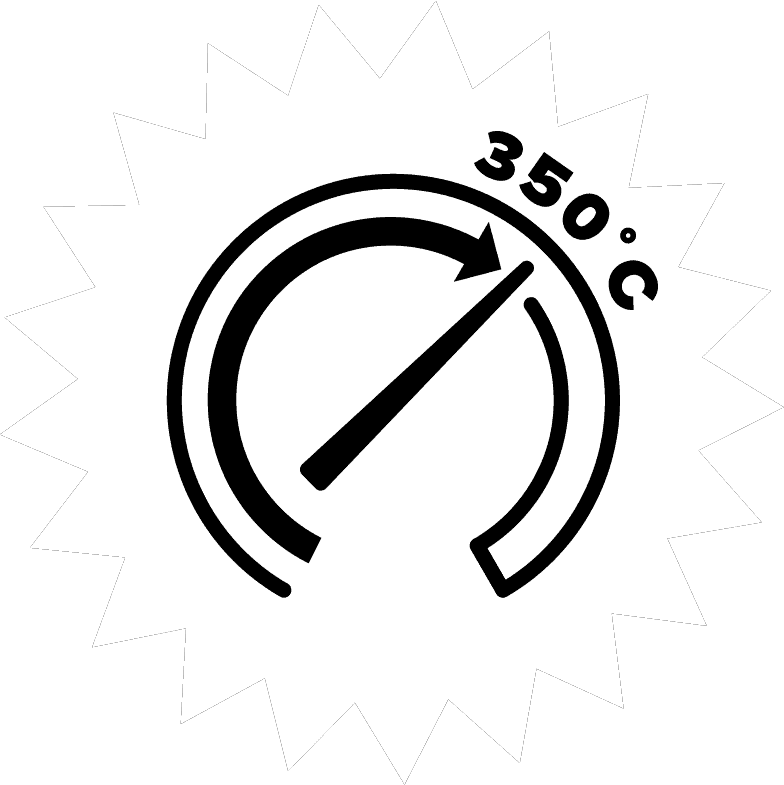 IS BURNING HOT
AND HEATS UP TO 350°C/700°F IN JUST 10 MINUTES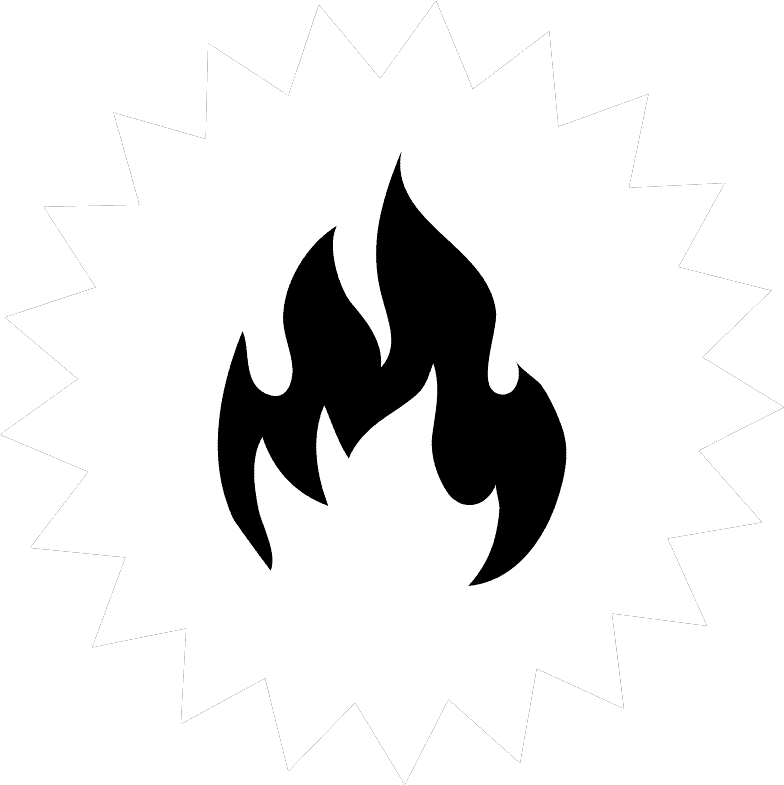 LOVES FLAMES
USE INDOORS ON YOUR GAS STOVE OR OUTSIDE ON YOUR ROCKET STOVE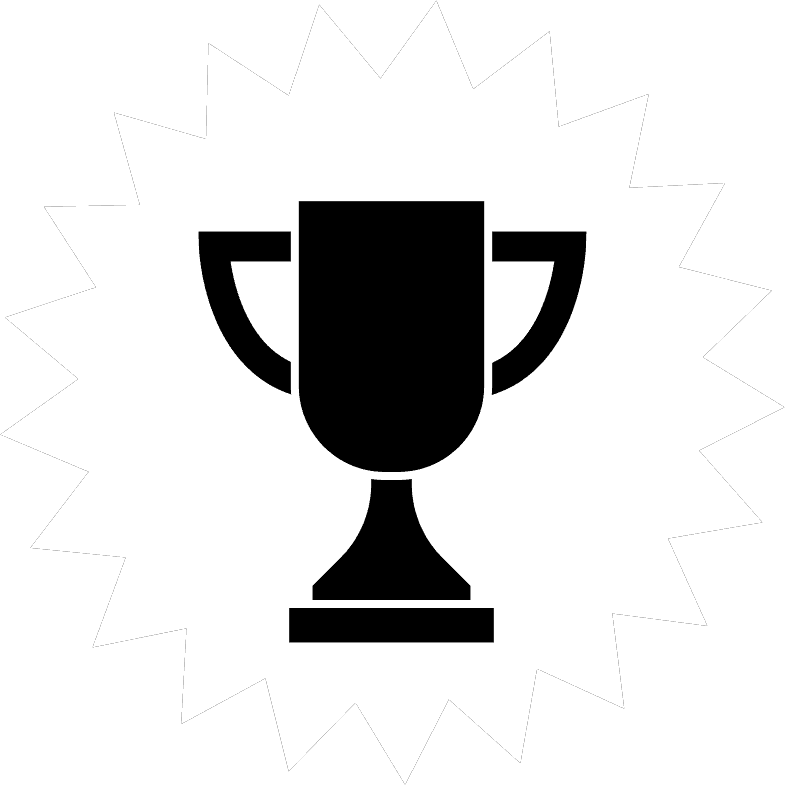 BAKES A REALLY GOOD PIZZA
SERIOUSLY! MEDIUM SIZED UP TO 27 CM/10.6 INCH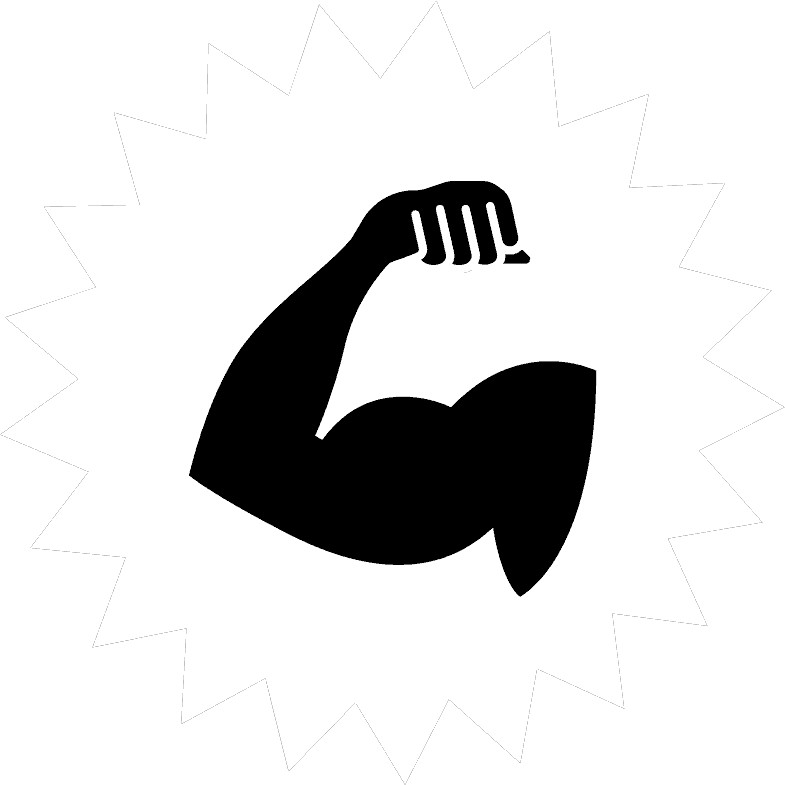 HAS NO LIMITS
USE IT FOR BAKING, COOKING, SMOKING AND HOT AIR FRYING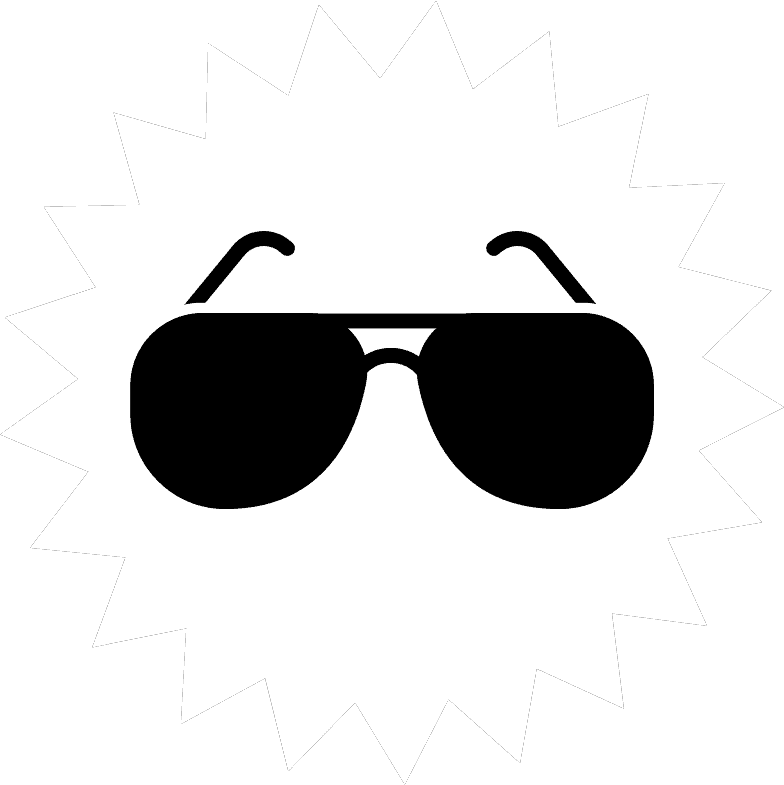 LOOKS GREAT
PATENTED DUTCH DESIGN NR. WO2019177452 BY STUDIO HNSDGR